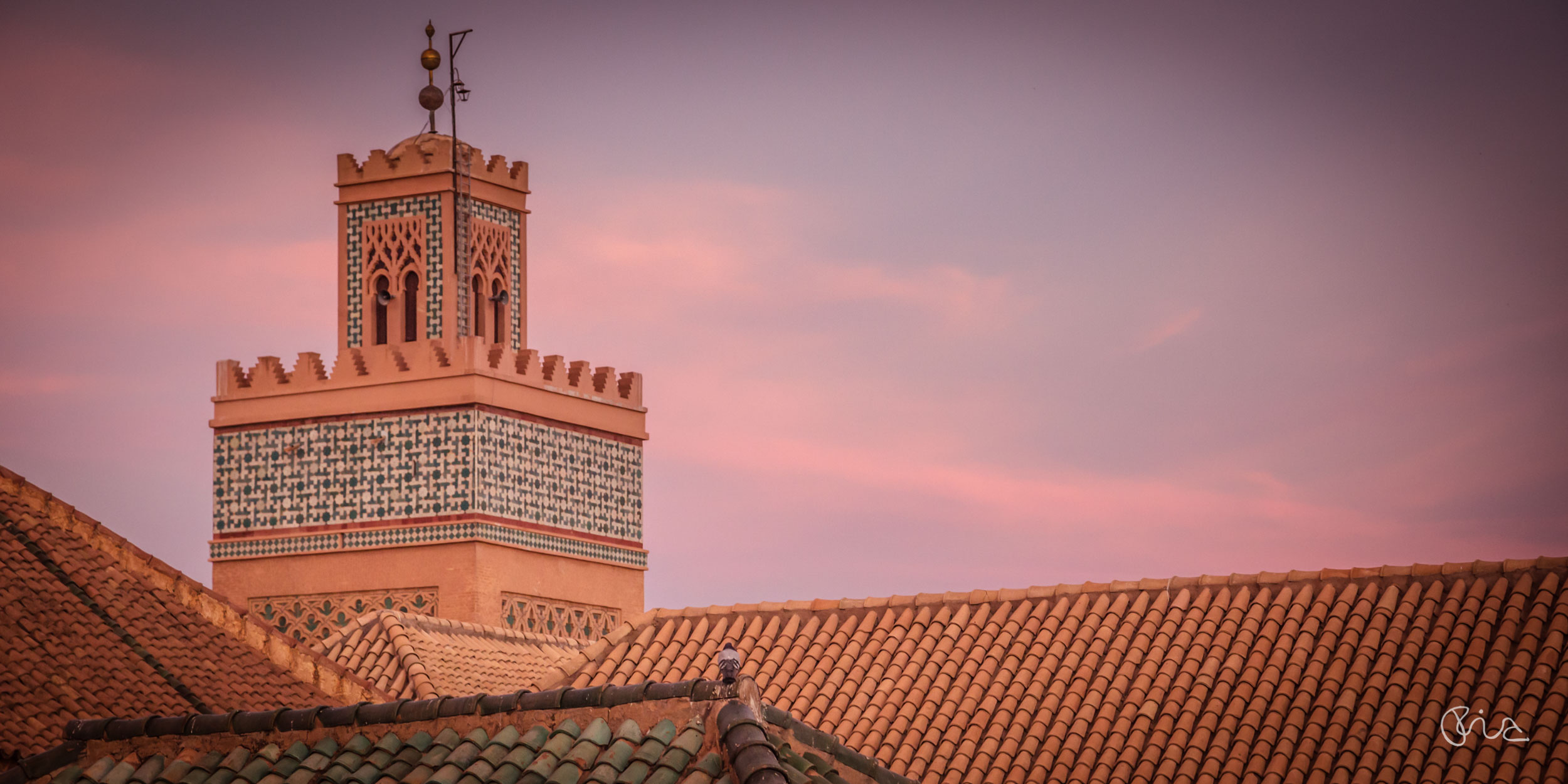 La Sultana Hotel in Marrakech
Enjoying a birds-eye view of the hustling markets below from the panoramic roof terrace is just one of the delights of the La Sultana Hotel in Marrakech. Fresh fish, sweet oranges, an array of spices, huge cuts of meats hanging from the butcher's shop, along with fruits and vegetables were all being sold as the locals of Marrakech noisily bartered for the best deals of the day.  It was an absorbing and ever-changing scene full of colour, aroma and mild chaos that kept you captivated and gazing down for longer than you'd think possible.
Jemaa el-Fna
The excellently named La Sultana, just a 10 minute transfer from Marrakech International Airport, is within the densely-packed medina and a short walk from Jemaa el-Fna, the main square. The five-star hotel is next to the Saadian Tombs and has been beautifully converted from more than a dozen riads (courtyard houses) that once belonged to royal servants. The transformation took six years and La Sultana is now made up of five different riads (Saadia, Bahia, Scheherazade, Sabah and Almohade) and each has it's own atmosphere and style. The Moroccan craftsmanship, attention to detail and artistic flair brings history, luxury and a dash of madness to a property that quite rightfully takes it's place in Forbes Traveler magazine's 400 most beautiful hotels of the world. Exploring the courtyards and different riads while taking in the furnishings, artwork and architecture is almost like a Moroccan tourist attraction in itself.
La Sultana Hotel in Marrakech
The mystery French owners, who apparently could not be named, have clearly invested heavily without comprising on style and detail and the end result is quite stunning. The couple also have another hotel called La Sultana Oualidia, set in a small coastal village in Morocco situated between El Jadida and Safi. When you do drag yourself away from the hotel and venture into the terracotta coloured streets and alleyways of the medina, it's a true North African experience and one you can't really compare to any of the popular city break destinations.  
The city
When I told friends of my trip to Marrakesh one responded with, 'that's a bit dangerous,' and a few even asked, 'why?' but, a crazy cab ride aside, I never once felt unsafe. It's certainly noisy and hectic in the main areas and even more so after sunset. Might equals right on the roads of Marrakech as trucks, buses, cars, horse-drawn carts, ridiculously over-loaded push trolleys, bikes and the odd donkey all compete for the same piece of tarmac. Horn-honking is constant but serves little to no purpose and just seems to add to the general hubbub. While locals happily gather outside cafes on the pathways to survey the chaotic scenes, puffing their shisa pipes and sipping the ubiquitous mint tea, known as Moroccan whiskey. 
The people I bumped into (literally in most cases) were friendly, proud of Morocco and happy to point you in the right direction as you attempt to navigate your way through the narrow streets. Marrakech is Morocco's fourth largest city after Casablanca, Fes and Rabat and it has a population approaching a million.
The best way to explore the souks and the medina is on foot but for the slightly longer journeys petite taxis or horse-drawn carriages can easily be hired, they are inexpensive but it's best to agree the fare before the driver starts driving. Mainly so you don't get ripped-off but also because you don't want him turning around negotiating while driving through narrow streets at 70kmph facing the wrong way!
The city wall
The history of Marrakech is reflected not only by the well-preserved 12th century ramparts that completely encircle the medina but also by the quarters within. 
The Koutoubia Mosque, built in 1147, rises 253 feet above the medina and is the most famous landmark of the old town while Jemaa el-Fna, the hub of all activity, is at the heart of the medina. The square is chock-a-block with smokey food stalls grilling meats alongside souks selling pottery, jewellery and street entertainers that include musicians, storytellers and snake charmers. Within the ramparts are the souks located north of Jemaa el-Fna and further south are the historic Jewish quarters of Kasbah and Mellah.
Koutoubia Mosque
We had 48 hours in the city and of the main tourists spots, we took in the Koutoubia Mosque, the Majorelle Gardens and the Saadian Tombs. Koutoubia, is also known as Booksellers' Mosque as hundreds of booksellers would line the streets near the base of mosque located by the Jemaa El Fna souk. The impressive minaret was completed under the reign of the Berber Almohad Caliph Yaqub al-Mansur in 1184 to 1199. It's certainly an impressive sight that can be seen from miles around.
The tombs of the Saddian dynasty, a dynasty that ruled Morocco from 1554 to 1659, are said to be some of the finest examples of Islamic architecture. They were sealed up for centuries until their rediscovery in 1917. It's not a vast place and the visit doesn't take too long but the tombs are magnificently decorated with colorful tiles, Arabic script and elaborate carvings, good value for just 10MDH (£1) entrance, and as it's just next-door to La Sultana.
Majorelle Gardens
The Majorelle Gardens are north-west of the Medina, about a 30 minute walk. They are filled with rare plants, bright colours and provide a peaceful retreat if you avoid the peak times, ideally before the tourist buses arrive after 10am. They were designed by a French painter Jacques Majorelle who moved to Marrakech in 1919. In 1980, Pierre Bergé and Yves Saint Laurent repurchased the gardens and restored them. Yves Saint Laurent died in June 2008 and his ashes were scattered there. Majorelle's workshop is now a small Museum dedicated to Islamic Art. My wife and I visited in February and the weather was just warming up. It's a good time of year as it's not too hot to explore but warm enough to enjoy some winter sunshine. In peak summer temperatures rocket to 50 degrees and the calm atmosphere of the spa at La Sultana Hotel in Marrakech would offer a nice contrast from the searing heat of the city. 
The hammam
A hammam is a must during any visit to Morocco and it's a tradition that's taken seriously across North Africa. Moroccans are said to attend at least once a week and it's where people go to socialise, gossip, do business and even, it is said, to arrange marriages. La Sultana includes all the elements of a traditional hamman but the warm surroundings of terracotta marble, and glowing wrought iron lanterns make for a relaxing experience. I didn't really know what to expect but it was a very pleasant combination of having a steam and being washed with black olive soap and then vigorously scrubbed and exfoliated with a rough glove. The whole hamman treatment lasted approximately an hour and it was finished off with a full body massage. It left you feeling totally happy and carefree.
Street food
Food is rarely far from my thoughts, especially on holiday, and a huge part of travel for me is seeing new ways of cooking and experiencing new flavours. The variety of street food within the medina was immense and everything is on offer from the not so appealing sheep heads and snail soup to the more tempting grilled meats, tagines and bastilla, a pie with layers of paper-thin pastry.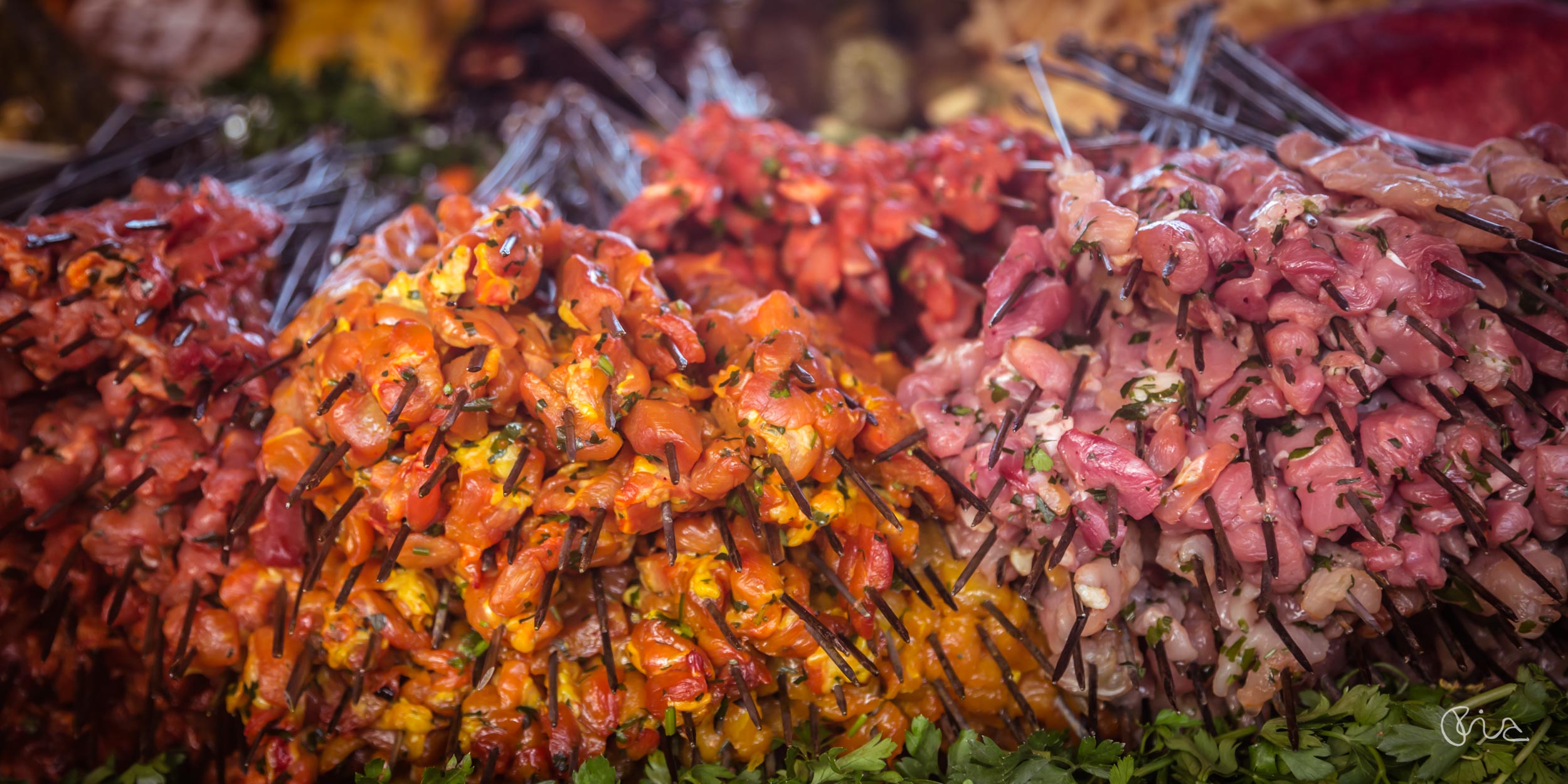 Almohade Riad 
To sample a wide range of Moroccan food, La Sultana has a five-course taster menu. The evening dinner was set within the candle-lit courtyard of the Almohade Riad and dishes included traditional harira soup and dates, cinnamon scented pigeon bastilla, spiced prawns, monkfish medallions and raisins, braised beef with toasted almonds and couscous with sweet onions and chickpeas. Each taster dish was well presented, packed with flavours and served with a smooth but strong Moroccan red wine called Eclipse, a blend of Grenache and Syrah from the middle atlas region. It was a memorable dinner and a nice way to complete an unforgettable mini-break in Marrakech.
Contributors to the Marrakech travel review
To read more of our travel writing, please visit


Tags: Marocco, Travel photography


Categorised in: Travel