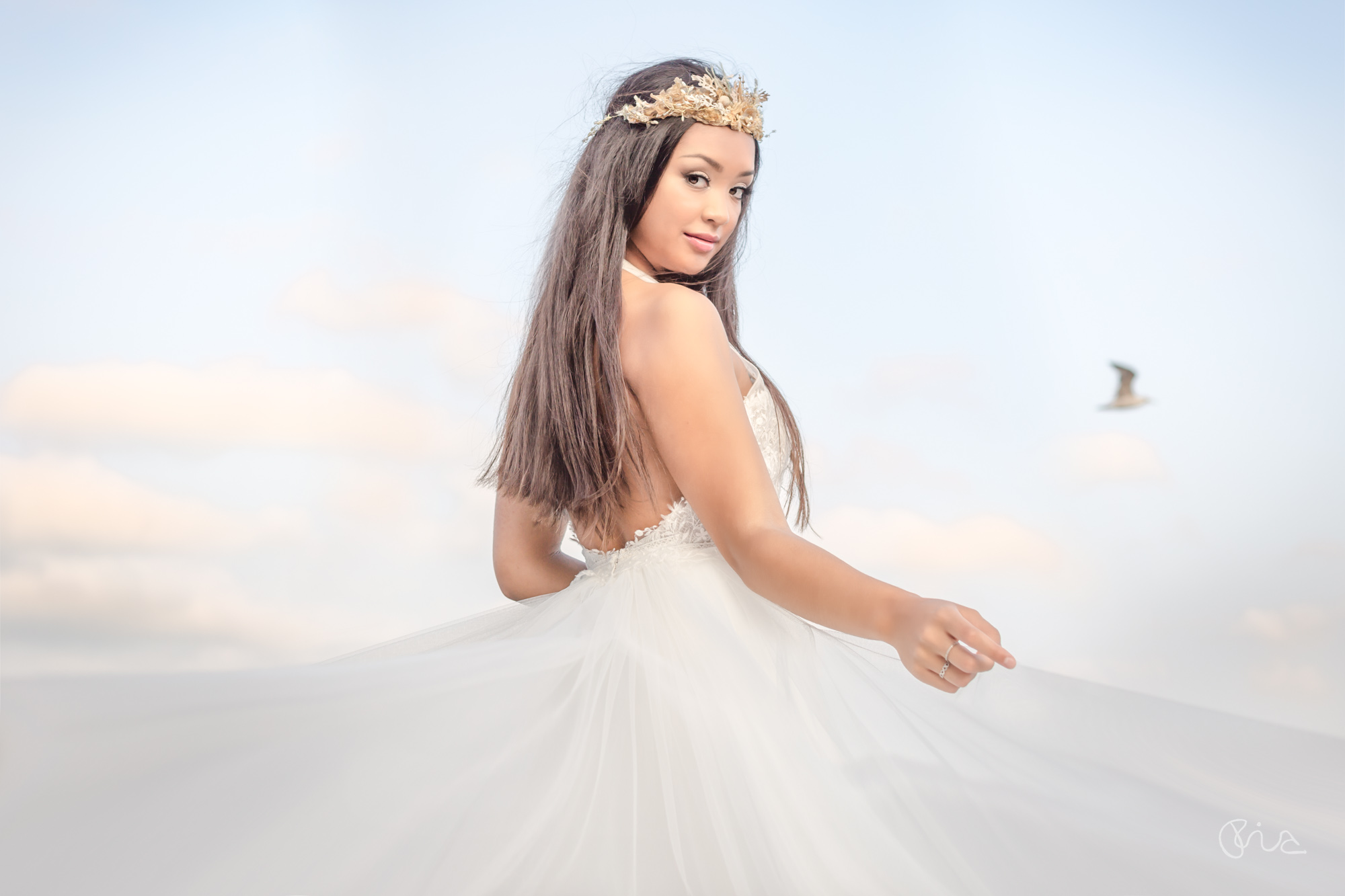 Bridal styled shoot in Eastbourne
After my photographer friend, Zoltan saw a video of three photographers shooting one model, Sarah, Zoltan and I decided to launch our own bridal styled shoot challenge. Therefore, for our project each photographer (as shown in Luke's video below) shot a set of portraits of our lovely model, Sophie. Furthermore, we chose the location and the bridal dress. While the Beauty Ninjas did a fantastic job with the makeup and hair. As we all have slightly different perspective and creative styles, collaborating together benefited all of us.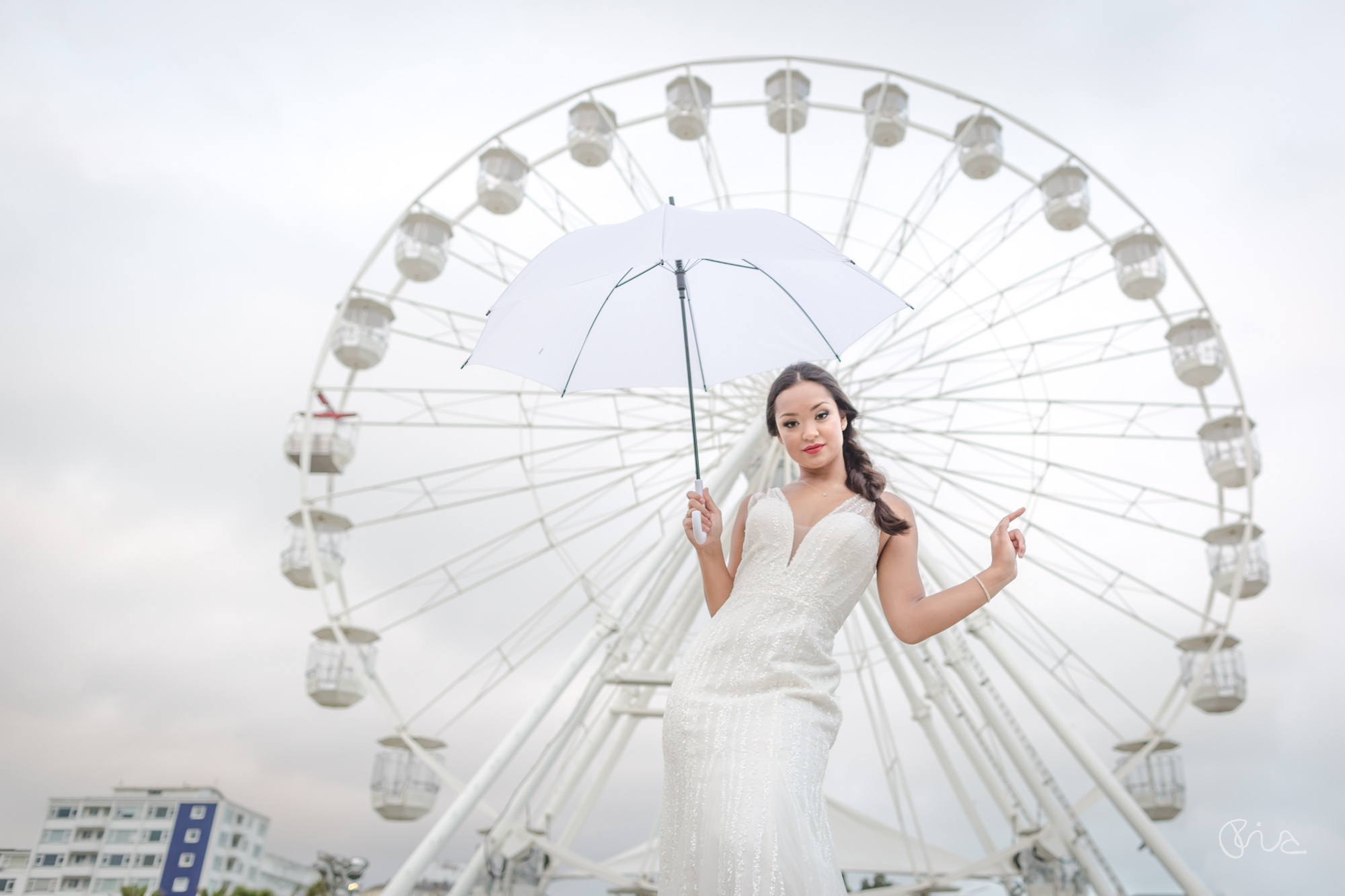 Here are the three different locations and all from our beloved home town Eastbourne, East Sussex.
First location: Towner Gallery
Firstly, Zoltan picked the Towner Gallery. A modern, colourful and eclectic location. I deliberately chose something subtle in colour but cool as a background to bring out the rock chick from Sophie. I knew what other locations were lined up so I wanted my images to look and work together as a set too.
Second location: Eastbourne beach
Secondly Sarah's choice was Eastbourne beach for some romantic shots with soft lights and fluffy clouds. I loved the soft light of the disappearing sun over the South Downs. My favourite images were the ones where Sophie was standing against the blue sky, light as a feather.
Third location: the Giant wheel
Last but not least I picked the Giant Wheel on the Western Lawns for the third photo shoot. I wanted to select something less known, but still quintessentially beachy. I always look for different angles, different perspective to bring the best out of my models and couples I photograph. Ahead of the shoot, and on one of my many dog walks with Barney, I thought about the idea of placing Sophie, right in the middle of the wheel to give her a delicate halo. As I was laying on the ground, shooting up Joni Mitchell's song of Both Sides, Now came to my mind. "Moons and Junes and Ferris wheels, The dizzy dancing way that you feel…" In the end, I am happy with the results. I hope you are too :-). Team, I can't wait to work together again. Watch this place!
Bridal Styled shoot team
Model: Sopphie Chatfield
Photographers: Ebourne Images
Makeup: Beauty Ninjas
Video: Luke Harmer Visuals
Bridal: Fross Wedding Collection
Accessories: Daisy Chain Lane
Wedding photography by Ebourne Images
Finally, do you like what you see and also looking for award-winning wedding photography? Get in touch with Ebourne Images. I would love to take pictures of your special day too! Ria x. With a first class Fine Art university degree and an Associate qualification from the Society of Wedding and Portrait Photographers (SWPP), you can be assured your wedding memories are in safe hands. The qualification means I am among the elite 5-10 per cent of wedding photographers in the country :-). 
Maria Szekelyhidi from Ebourne Images: creating that perfect wedding picture
Portrait photography references



Tags: Bridal styled shoots, Candid wedding photography, East Sussex Weddings, Eastbourne wedding photographers, Eastbourne weddings, Natural wedding photography, Sussex wedding photographers, Sussex Weddings


Categorised in: Portraits, Sussex Weddings, Weddings