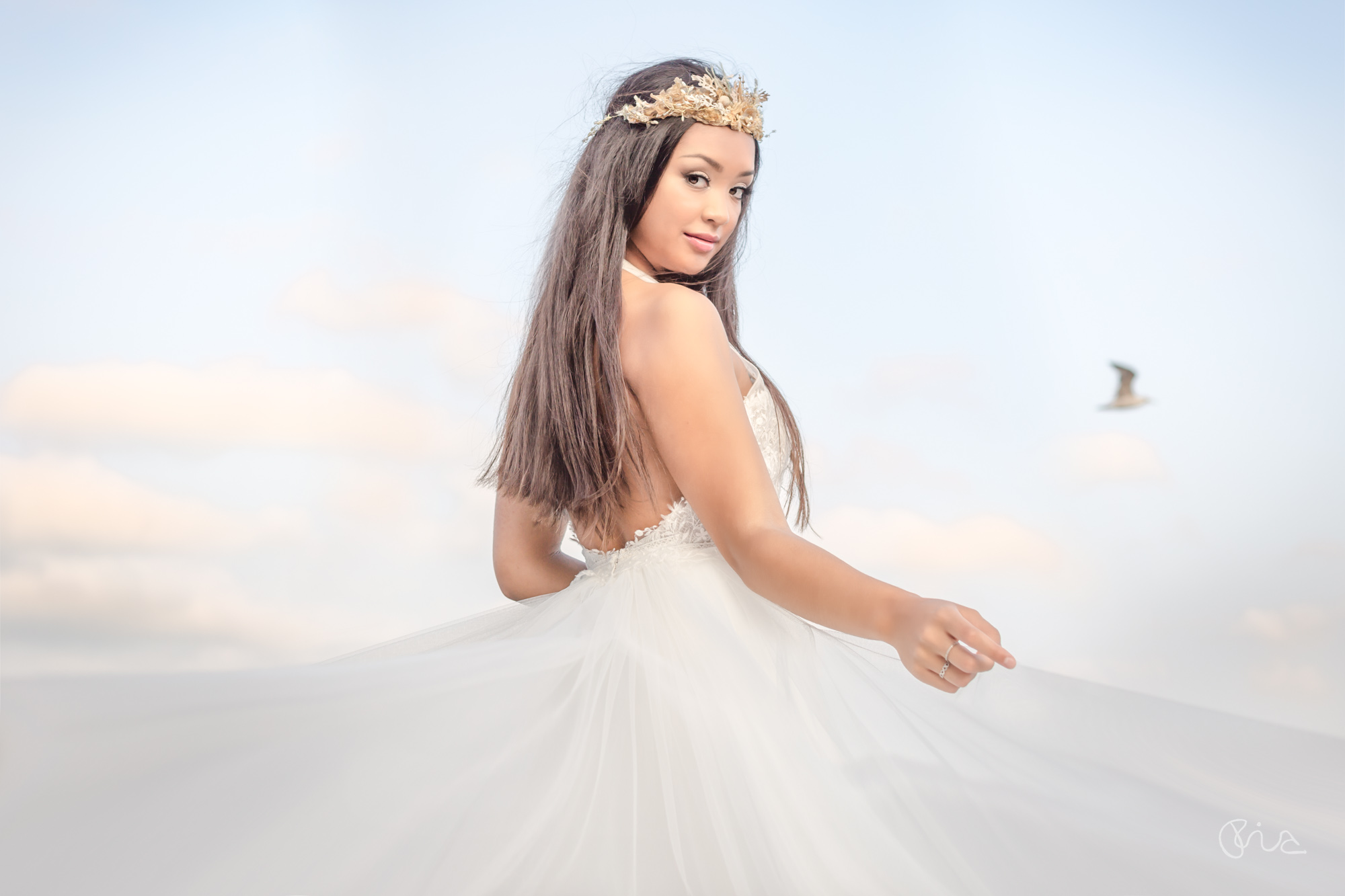 Eastbourne bridal photo shoot
A trio of talented Eastbourne wedding photographers are finding ways to stay creative despite challenging times for the wedding industry. Zoltan, Sarah and Maria Szekelyhidi selected three different locations within Eastbourne and, between lockdowns, shot a set of portraits of their bride and model for the day Sophie Chatfield. The Towner Gallery, Hollywell Beach and The Giant Wheel provided the backdrops as the three set about Zoltan's challenge of: Three Photographers, One Bride and Three Locations.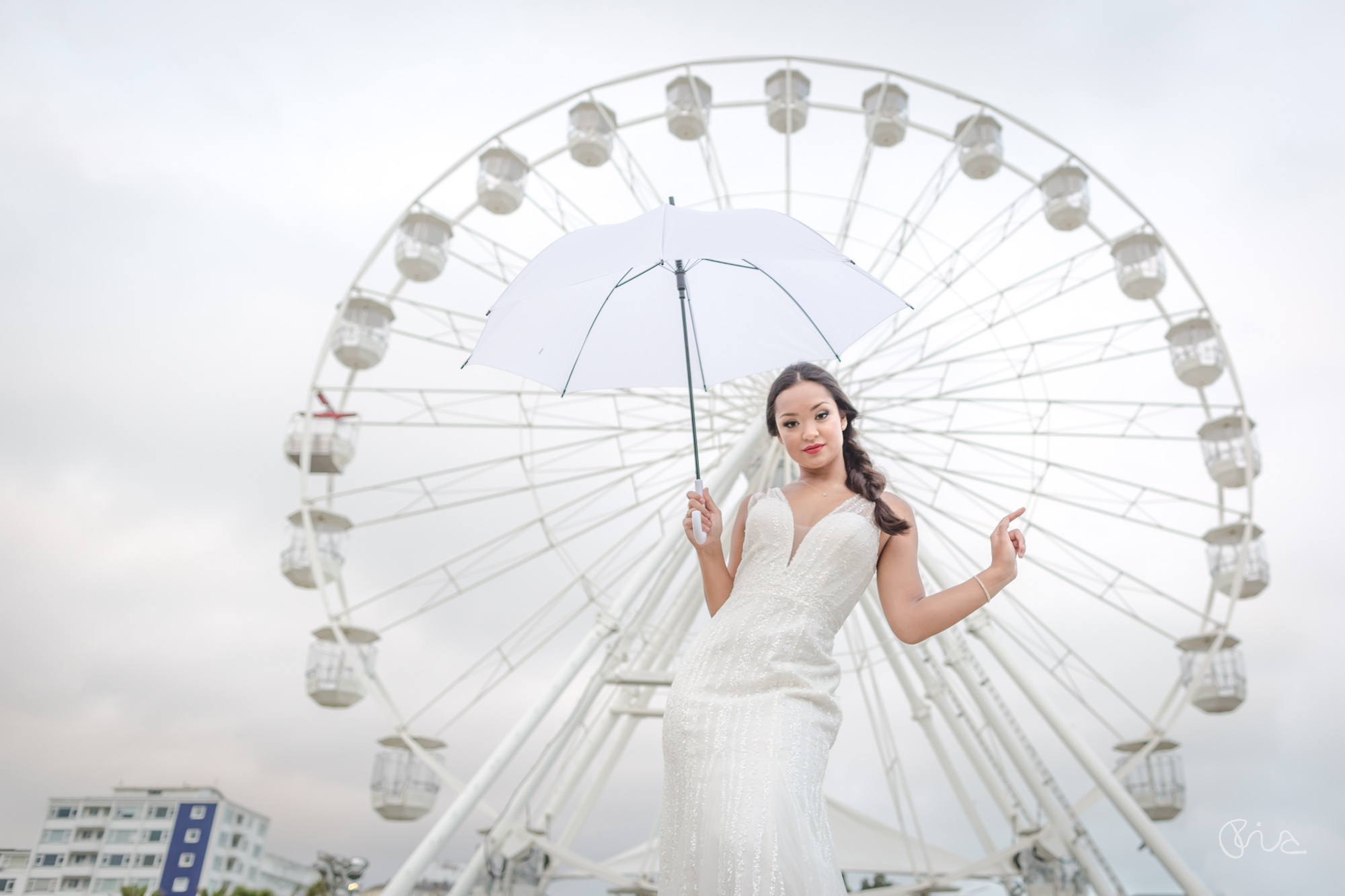 "Eastbourne is such a beautiful town for weddings," said Maria of Ebourne Images. "In any normal year we would be busy capturing bride and grooms and showing off Eastbourne as a wedding destination. Unfortunately we could not do that this year so we decided to get together and create our own bridal-styled shoot challenge. It was great fun and a good experience."
The photography colleagues and friends have their individual styles and the seven minute video created by Luke Harmer Visuals shows brides, couples and anyone with an interest in wedding photography how they capture their images. Each photographer picked a location, the dress was selected from Fross Wedding Collection and Eastbourne's Beauty Ninjas created the hair and makeup. The all-important accessories were supplied by Daisy Chain Lane. The photographers then had 10 minutes each at each location to work with Sophie.
First location: Towner Gallery
"I picked the Towner Gallery and Congress Theatre as I really like urban style portraits," said Zoltan from The Soul of My Lens Photography. "You don't see too many of them with brides. These buildings are landmarks in Eastbourne, especially the Towner with its colourful walls. It's such a great place to shoot and the images really popped and looked edgy."
Second location: Eastbourne beach
In contrast, the second selection from Sarah of Cole Young Photography, was the natural beauty of Holywell Beach. "It's so beautiful and relaxing," Sarah said. "I used the groynes and placed Sophie in a position to make the most of her angles and surroundings. The seaweed bouquet and headpiece came in very useful and made Sophie into a beautiful mermaid bride."
Third location: the Giant wheel
The third and final backdrop was the Eastbourne Giant Wheel that was on Western Lawns throughout the summer. "I wanted to pick something a bit different but was still quintessentially beachy," said Maria. "I placed Sophie in the middle of the wheel and it gave a delicate halo around the bride. I am happy with the results and I hope people like them too. It was a great project and the video may give bride and grooms a few ideas for their Eastbourne wedding. We are all hopeful that next year will see a return of weddings and we all can't wait to get started again."
Bridal Styled shoot team
Model: Sopphie Chatfield
Photographers: Ebourne Images
Makeup: Beauty Ninjas
Video: Luke Harmer Visuals
Bridal: Fross Wedding Collection
Accessories: Daisy Chain Lane
Words: Derren Howard
Do you like what you see?
Are you also looking for award-winning wedding photography? Get in touch with Ebourne Images. I would love to take pictures of your special day too! With a first class Fine Art university degree and an Associate qualification from the Society of Wedding and Portrait Photographers (SWPP), you can be assured your wedding memories are in safe hands. The qualification means I am among the elite 5-10 per cent of wedding photographers in the country :-). 
The video


Tags: East Sussex Weddings, Eastbourne wedding photographers, Styled shoots, Sussex wedding photographers


Categorised in: Eastbourne weddings, Portraits, Sussex Weddings, Weddings