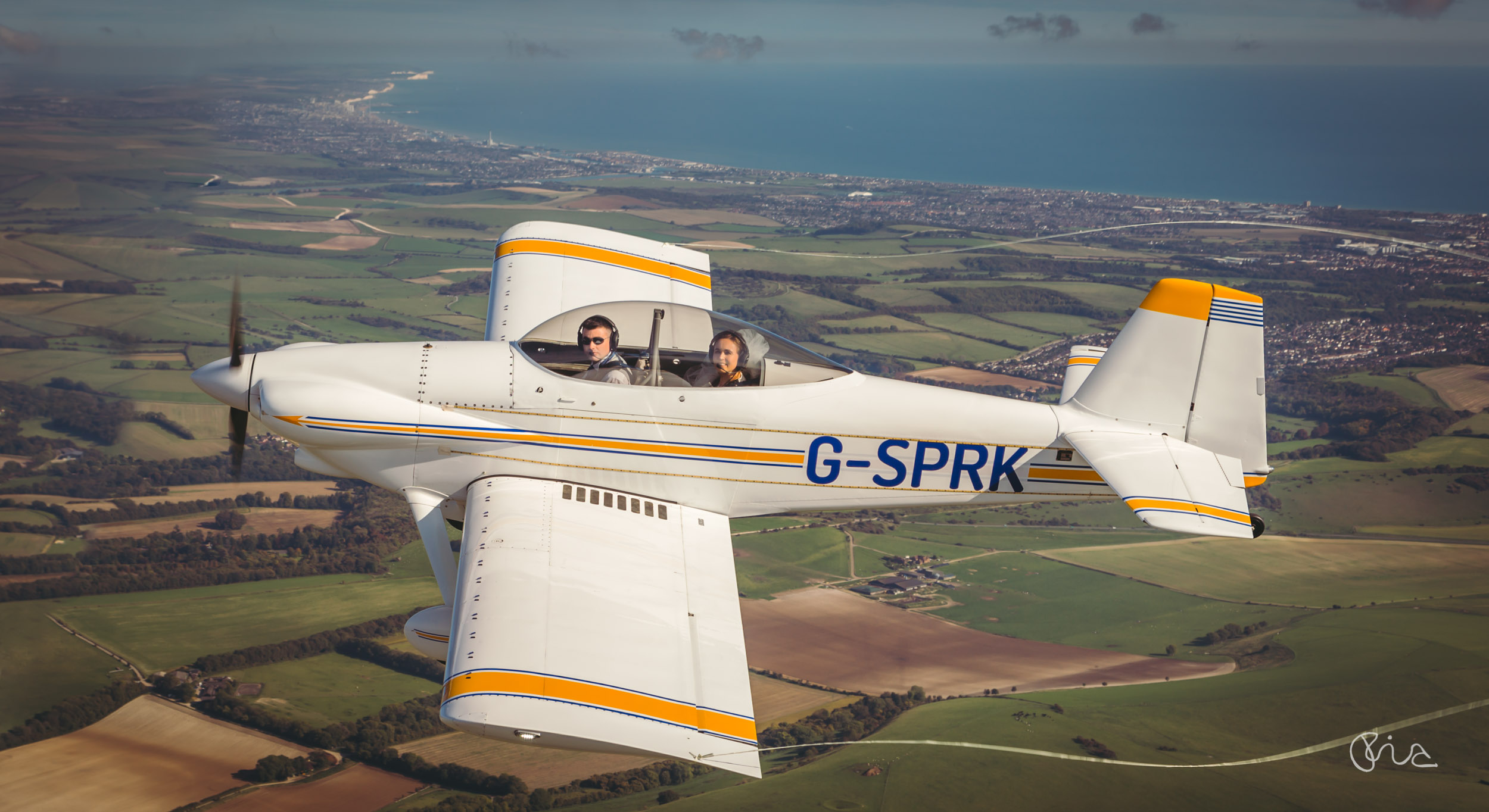 Pilot wedding above beautiful Sussex skies
A high moment for me in 2017 (literally) was hanging from a two-seater plane at 2,000 feet. All this to capture a pilot wedding, the wedding of jumbo jet pilots Katie and Jon Gowdy. They took to the skies above beautiful West Sussex to celebrate their wedding day. And also embarked on their maiden flight as husband and wife.
Hanging from a two-seater plane 🙂
One of the privileges of being a Sussex wedding photographer is that I get to travel – or fly tin this case – the the entire country.
Bride and groom pictures
Flying conditions were perfect and despite a fear of flying, it was crucial to get the right shots and capture their special moment. Having the camera to focus on, alongside the calming influence of my pilot, helped me tremendously as we soared through the air flying in formation with Katie and Jon. I and, more importantly, the newly weds, were delighted with the results and I also think it cured my long-standing phobia of flying.
For me, it was a wedding photography experience I will never forget. One of the many reasons why I do the wonderful job I do. Each wedding is different and throws up unexpected challenges. I just love that! With my feet firmly back on West Sussex soil, I made my way to the Goodwood Hotel, Chichester. This is where the pilot wedding reception was held.
It was a delight to photograph this wonderful and talented couple. I was pleased to receive such positive feedback from them."YeY! We were so grateful that you were there with us Maria! And what a superb job you did! If you and Derren ever want to come flying with us again just let us know. K&J xx".
List of suppliers at Pilot Wedding
If you love my wedding photos and you haven't booked artistic wedding photographer with a proven track record, please don't forget to check out my wedding photography offers page. I am sure you will love one of the packages.
Do you like what you see?

Are you also looking for a wedding photographer?  Get in touch with Ebourne Images. Needless to say, with a first class Fine Art university degree and an Associate qualification from the Society of Wedding and Portrait Photographers (SWPP), you can be assured your wedding memories are in safe hands. Needless to say, the qualification means I am among the elite 5-10 per cent of wedding photographers in the country :-). 

Finally, to get a real feel for my photography, please also have a look at some of Ebourne Images most recent wedding photography blog posts. Especially the one I wrote about this Pilot wedding.




Tags: Sussex Weddings


Categorised in: Church weddings, Sussex Weddings, Weddings