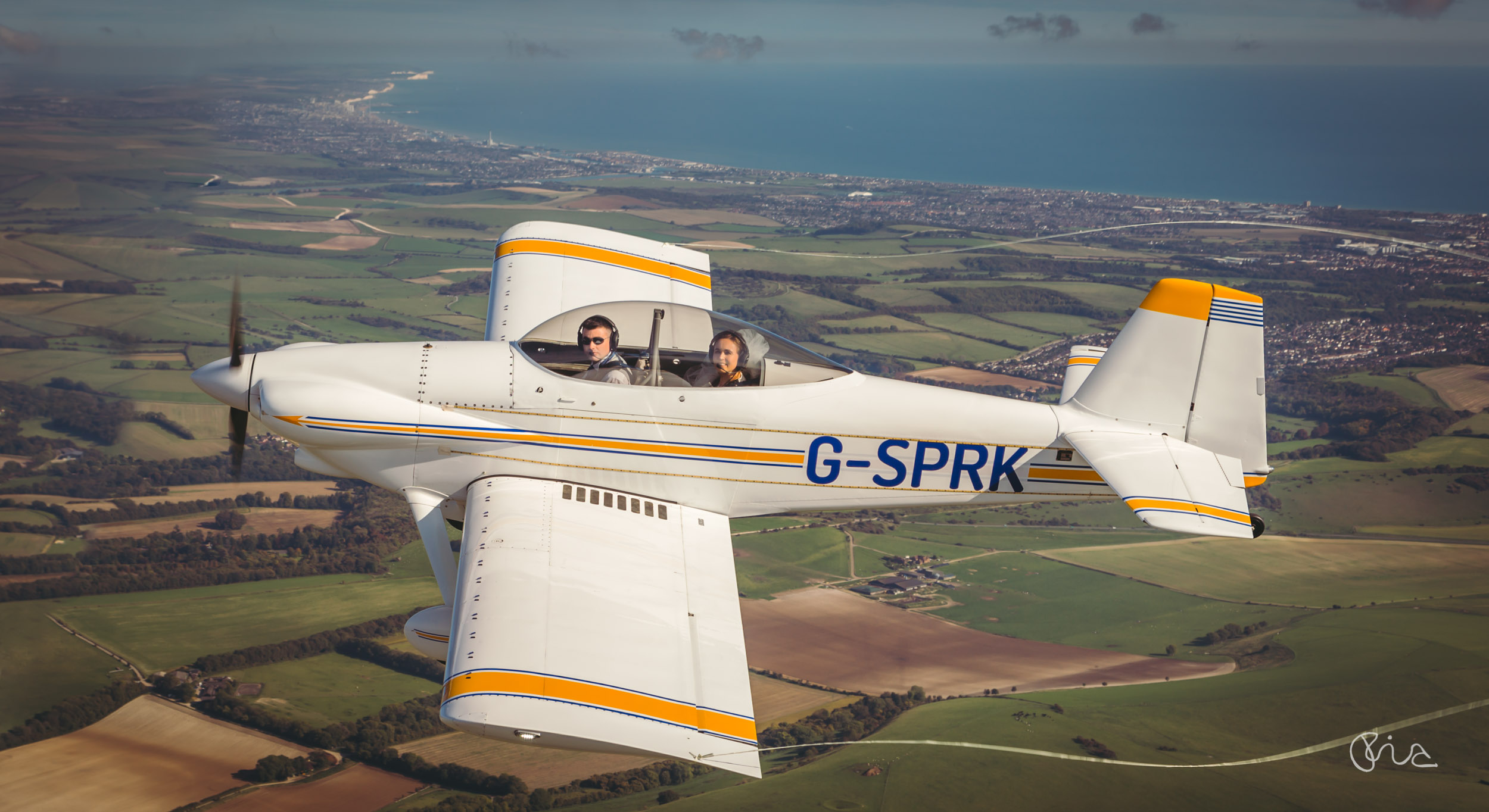 Love is in the air: Pilot wedding
A high moment for me in 2017 (literally) was hanging from a two-seater plane at 2,000 feet to capture a pilot wedding, the wedding of jumbo jet pilots Katie and Jon Gowdy. They took to the skies above beautiful West Sussex to celebrate their wedding day and embarked on their maiden flight as husband and wife.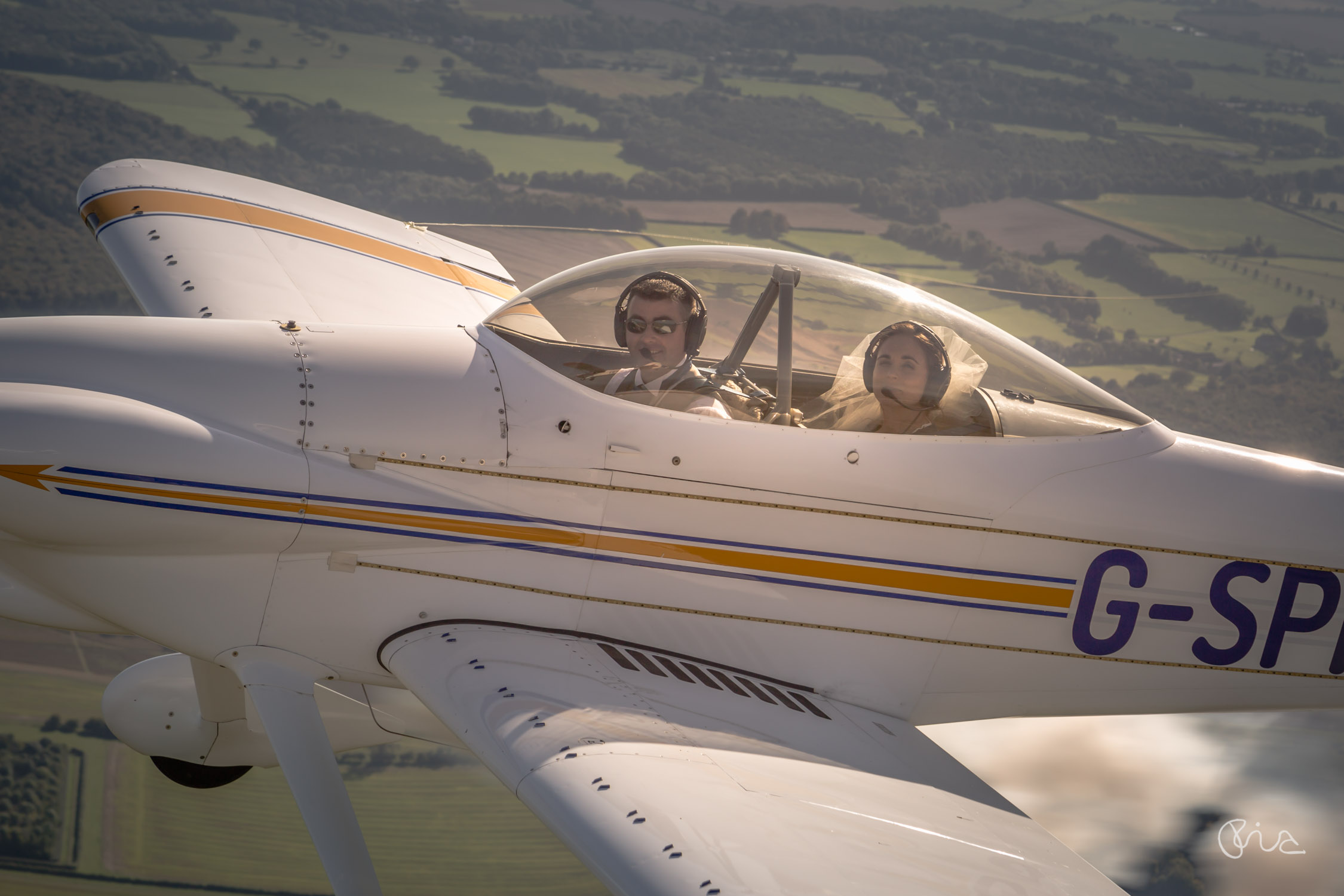 Arial shots
Flying conditions were perfect and despite a fear of flying, it was crucial to get the right shots and capture their special moment. Having the camera to focus on, alongside the calming influence of my pilot, helped me tremendously as we soared through the air flying in formation with Katie and Jon. I and, more importantly, the newly weds were delighted with the results. I also think it cured my long-standing phobia of flying :-)! Below you can read an interview about the pilot wedding with the happy aviators written by Anna Khoo. The piece was published by the West Sussex County Times on November 2, 2017.
The interview
A  couple  who  met  through their love of flying have taken to  the  skies  together  for  the first time  since  tying  the knot. Katie  Simmonds  and  Jon Gowdy from Thakeham first got together aged 16 and 17 at South Downs Gliding Club. Now  both  professional pilots,  the  pair  decided  to mark  their  wedding with an  aerobatic  display.  And  a month later, they're back off the  ground  and  firmly on cloud nine.
The church

 
Katie  said:  "The  weather's been  just  glorious  so  we've been up in the air together. "On  our wedding  day  we were absolutely blessed with the weather, it was perfect. "We  got  married in the church  and  my  mum  drove us to the air strip and we got into one of the RB4s. "We went upside  down on our wedding day, which I don't think many people can say!
"I  did  change  out  of  my wedding  dress  though, otherwise I wouldn't  have been able to see anything. "I  knew I probably wouldn't  be  feeling  up  to flying on our wedding day. So Jon flew the aeroplane and he was so cool and calm and I was giggling away."
Jon, who works for a long haul carrier airline like Katie, also  takes  part  in Airbourne pyrotechnic displays. The  Fire  Flies  do  evening shows  with  fireworks released from their  wing tips while they show off their aerobatic skill. 
For Katie, flying has always been  a  special  part  of  their relationship. "We  did  gliding together. Jon  taught me to fly the tug that takes the glider up," she said. "He taught  me formation flying and aerobatics. 
"At  work,  we  both  fly  747s and  we  do  talk  about  our aeroplanes at home as well. " After  nearly  twenty  years of  friendship,  the  Gowdy's married  at  West  Chiltington church on September 23 this year.   
The pilot wedding's service
The  ceremony  came  just three  weeks  after  Jon's brother  James  married Hannah Steedman in  the same venue to make it easier for  relatives  living  in  New Zealand.    
After  a  few  days  of honeymoon  in  Wales,  a  trip to Phoenix came in the form of a long haul flight John had to pilot and Katie went along with him.
It's not all work though. In their  free  time,  the  couple head  to  an  airstrip  near Storrington where they used to live. "It's  lovely  when  you're  up there," said Katie.
Wedding reception
For me, it was a wedding photography experience I will never forget. One of the many reasons why I do the wonderful job I do. Each wedding is different and throws up unexpected challenges. I just love that!
With my feet firmly back on West Sussex soil, I made my way to the Goodwood Hotel, Chichester. This is where the pilot wedding reception was held.
It was a delight to photograph this wonderful and talented couple. I was pleased to receive such positive feedback from them. "YeY! We were so grateful that you were there with us Maria! And what a superb job you did! If you and Derren ever want to come flying with us again just let us know. K&J xx"
List of suppliers at Pilot Wedding
Do you like what you see?

Are you also looking for an award-winning wedding photographer to capture your wedding?  Please get in touch with Sussex wedding photographer. With a first class Fine Art university degree and an Associate qualification from the Society of Wedding and Portrait Photographers (SWPP), you can be assured your wedding memories are in safe hands. Needless to say, the qualification means I am among the elite 5-10 per cent of wedding photographers in the country :-). 



Tags: High-end wedding photographer, High-end weddings, Sussex Weddings, West Sussex weddings


Categorised in: Church weddings, Documentary wedding photographer, Luxury weddings, Sussex Weddings, Wedding venues, Weddings