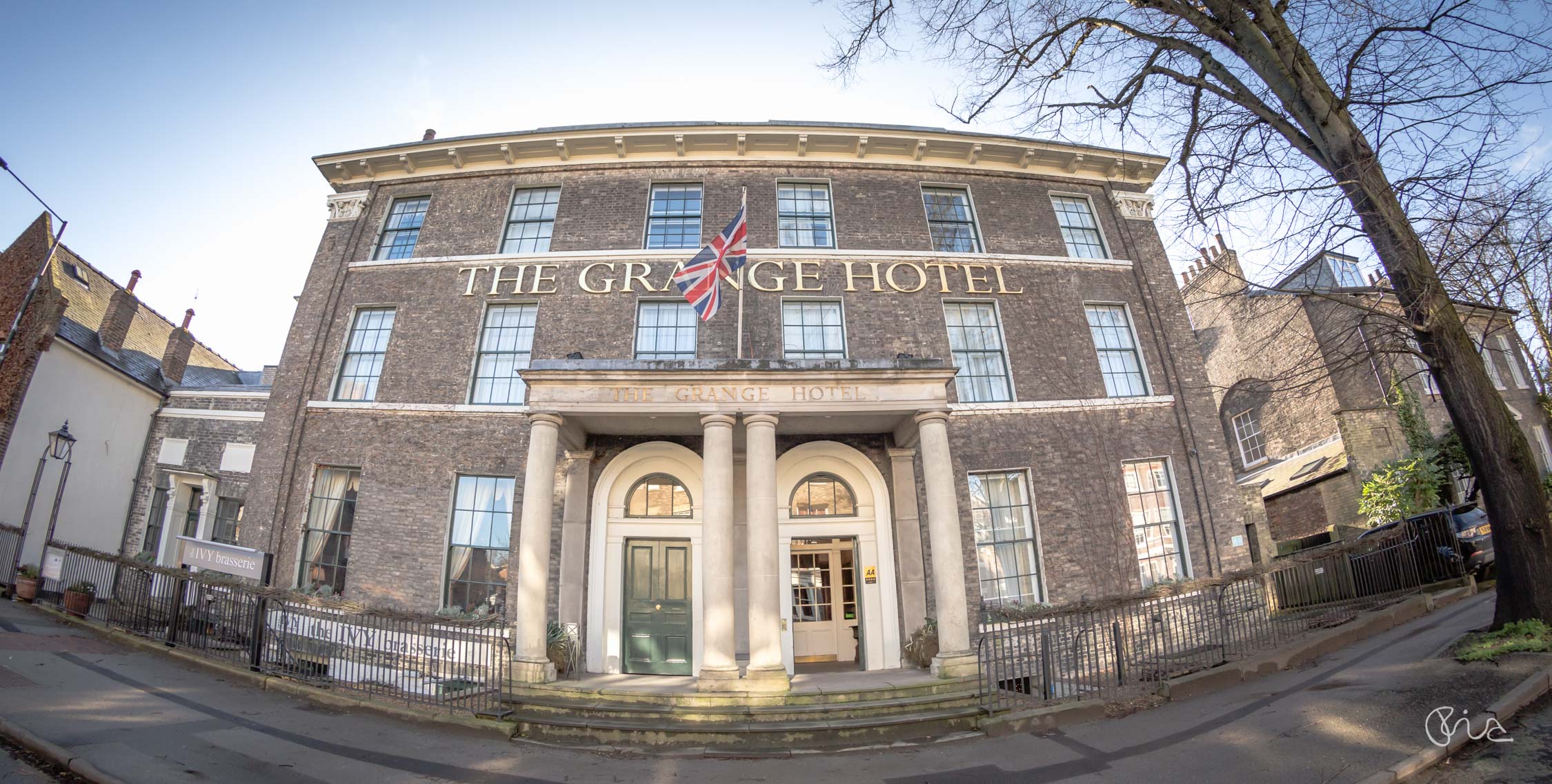 The Grange Hotel in York
The city of York had been on my 'to visit list' for a while. I knew about their good tea, I knew about Yorkshire Cricket Club and I also knew that, "Richard of York gave battle in vain" is a fail proof mnemonic for learning the colours of the rainbow (the most random things from school stick with you through life). But aside from that, I was a total novice on all things York and when the chance arose in February, I was keen to find out more. The Grange Hotel is a stylish boutique within a Grade II listed building. It's a four star hotel where standards are high and things are done properly with minimal fuss.
The Grange Hotel in York
It was tempting to be totally lazy, do nothing and just enjoy the comforts of the large room.
But tasked with collecting our York Passes from the Visit York Information Centre, we dragged ourselves away from the Egyptian cotton on the king-size bed and exited our room. A swift glass of red by the open fire in the main bar crossed our minds but we decided to save that until later.
The city
We were out the front door, took a right on Clifton and within a few minutes of walking, we were at York City Walls. They stand four metres tall, almost two-metres thick and York has more miles of intact wall than any other city in England. It's just over two miles to walk them, it's free to do so and about 2.5 million people walk along them each year. The section between Peasholme Green and Bootham Bar provides views of the rooftops, sneak peeks into people's gardens and views to the Minster itself. They immediately offer an appreciation of the city's history and as a first time visitor, it's a nice way to get your bearings.
The York Passes
It turns out the York Passes are a decent investment. The one day city pass is £45 and gives you access to 26 attractions, including the big five of the Jorvik Viking Centre, York's Chocolate Story, the Castle Museum, Clifford's Tower and of course York Minster, which is Northern Europe's largest medieval Gothic Cathedral. The cathedral took 250 years to build, it contains some of the country's oldest and finest stain glass and has the city's best views from the 200 feet tall tower.
The York and beyond pass has more attractions and can be used over two, three or six days.
The Jorvik is an interesting one. It's like riding a very slow but very educational fairground waltzer that takes you back a thousand years to the 10th century. When placed into the car I resisted the urge to yell: "The louder you scream, the faster you go," and we slowly navigated our way over and through a very detailed recreation of a Viking settlement that includes sounds, smells and images of Jorvik in AD975. Floods in December 2016 saw much of the centre under a metre of water but after much fundrasing – some that even included children donating pocket money – £4.3m was raised to rebuild and improve. It's one of York's most popular attractions. Water levels on the River Foss and Ouse were once again high. It had clearly impacted some homes and businesses near the river banks, but the city remains well and truly open for tourists. The best way to help is to visit.
We happily got lost in the haphazard and narrow streets within the walls, brought some tea and chocolate in the Shambles and then indulged in a yorkie wrap… It's basically a full-on roast dinner with the all trimmings wrapped in a stretched Yorkshire pudding. It would probably have taken five laps of the city walls to burn off the calories but back at the Grange we still managed to find room for dinner. After making good on our promise to have that strong glass of red by the fire, we descended to the hotel cellars for dinner for two in the Ivy Brasserie. It's a 2 Rosette fine dining restaurant, serving classic food with a french twist.  
Contributors to The Grange Hotel in York review


Tags: England, Travel photography


Categorised in: Travel