Pre-wedding shoot at Birling Gap
Photographing pre-wedding and engagement shoots are often special occasions for the couple and the wedding photographer. Firstly, they are such a great way for us to get to know each other and build rapport. Furthermore, you will get to know how I shoot and I can also give you a few hints and tips which will be invaluable on your big day. In addition, these photos can also be used for save-the-date cards, for wedding invitations or simply as presents.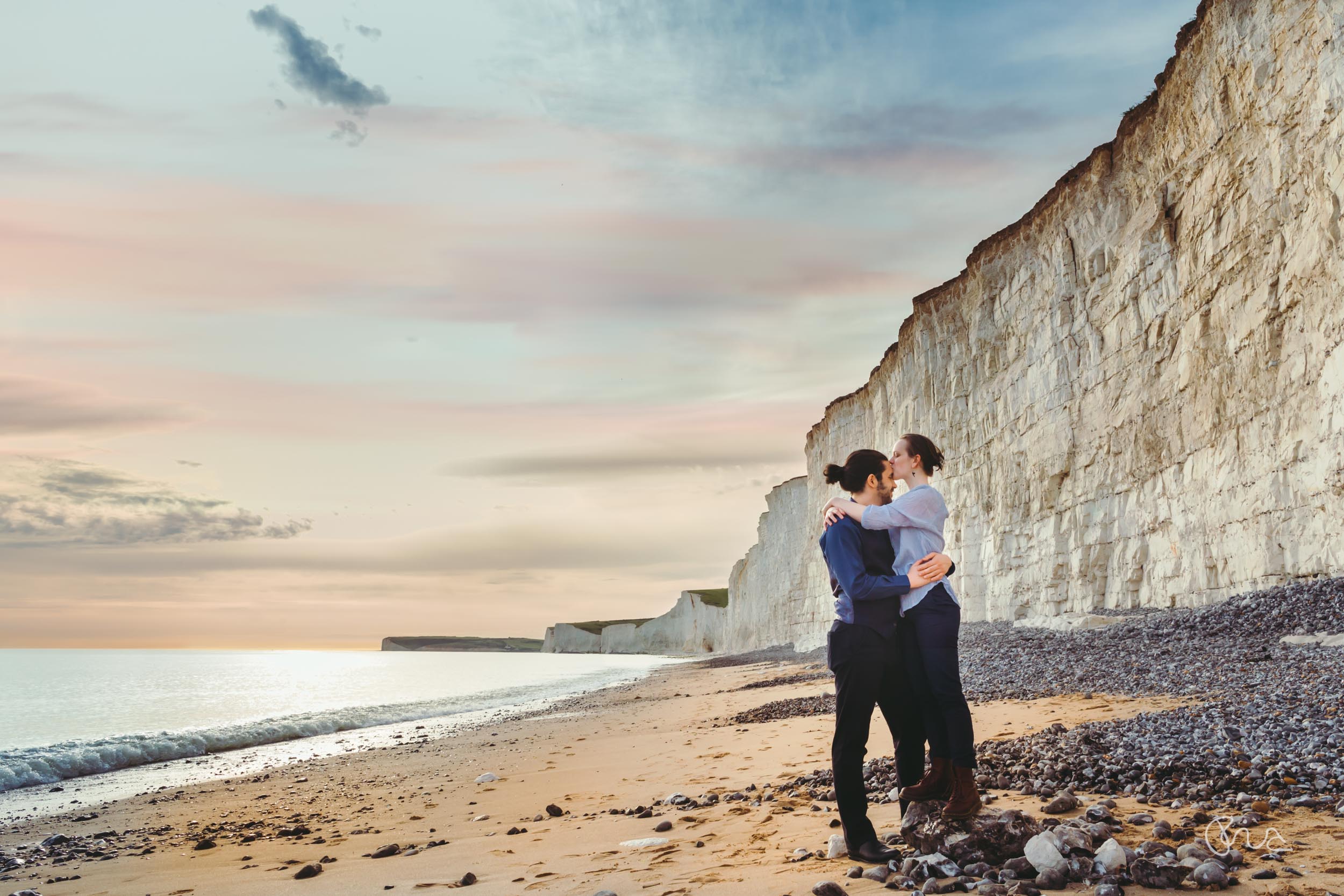 Pre-wedding shoot gallery at Birling Gap
Often I'm fortunate enough to photograph a family and also their extended family. I recently had the privilege to capture Jo and Ian's wedding anniversary at the Grand Hotel in Eastbourne and I was delighted when their daughter, Hannah and her partner, Ivan asked me to shoot their pre-wedding. We are lucky to live in one of the spectacular spots in the UK and Birling Gap. The golden hours, offered a dramatic touch. My objective was to combine the rugged beauty with a relaxed style shoot for the couple. Hannah and Ivan were brilliant on the day and the closeness and tenderness between them really came through. Here's to a lovely couple and a lovely family. I hope you enjoy your images and that you pick your wedding venue soon. I'm sure it will be a wonderful occasion. Lots of love Maria X. The full set will be with you shortly.
Testimonial
"Hi Maria, The picture you put on FB has been admired by many. Can't wait for the whole set! Jo"

Do you like what you see and also looking for an award-winning photographer to capture your engagement and wedding? Get in touch with Maria at Ebourne Images. I would love to take your pictures too! Last but not least, with a first class Fine Art university degree and an Associate qualification from the Society of Wedding and Portrait Photographers (SWPP), you can be assured your portrait and wedding photography is in safe hands. The qualification means I am among the elite 5-10 per cent of photographers in the country :-). 



Tags: Eastbourne wedding photographers, Engagement Shoots


Categorised in: Engagements